WELCOME TO THE 35th ANNUAL Guelph Ringette TOURNAMENT!

January 29 to February 1, 2015
The Guelph Ringette Association Inc. (GRA) invites you to attend our 35th Annual Ringette Tournament January 29th to February 1st, 2015. Please note that select local teams may be asked to play Thursday night, and the Friday games could begin as early as 8:00 AM.
This year the Guelph Ringette Association is pleased to announce Score2Stats as the official registration and tournament tracking partner!
TOURNAMENT REGISTRATION IS NOW OPEN
The deadline to register for the 2015 Guelph Ringette Tournament is December 1, 2014. Registration must be completed at Score2Stats: click here to enter the registration portal.
ACCOMMODATION
The success of our tournament relies heavily on the combination of great volunteers and partnerships established with our sponsors. GRA is pleased to announce our partnership with Hudson Travel Group (HTG), the exclusive travel partner for this tournament. HTG has experience working with sports teams and has an excellent working relationship with our local hotels. HTG has secured hotel room blocks at participating host hotels so be sure to contact them early to book your team. Click the HTG logo to access your hotel registration.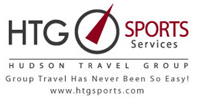 DIVISIONS, FORMAT, RULES and FEE DETAILS
All divisions will be offered initially but due to ice limitations, divisions with limited interest may be cancelled. Division format will depend on the final number of teams in each division. The Official Ringette Canada and O.R.A. sanctioned rules will apply.
Division Format Fee
-U8 "Bunnyfest": $300
-U19R, U16R, U14R, U12R, U10, U9: 3 games - $600
-U14AA, U12 Provincial Petite, U14A, U16A, U19A: 4 games with 15 minute periods - $775
-U19AA and U16AA: 4 games with 20 minute periods - $875
-Open A: 4 games with 15 minute periods - $875
-Open B, Open C and University: 3 games with 15 minute periods - $775
Teams will be accepted on a first-come, first-serve basis, based on when payment has been received by the Tournament Registrar. Teams are to register (ie - submit team list, bench staff, etc.) online as per above at the Score2Stats link. Confirmed teams will be notified once divisions have been filled and cheques will then be cashed. There will be no refund if a team cancels/withdraws once the cheque has been cashed. No special refund requests will be considered after December 20th, 2014.
The ice schedule will eventually be posted on this website closer to the tournament. Once the schedule is set, each HOME team will be asked to provide a "Scorekeeper" (a person to complete the game sheet).
Registration must be completed at Score2Stats: click here to enter the registration portal.
Payment
Please mail the registration cheque (payable to: Guelph Ringette Tournament) and TRF to the Tournament Registrar (see below). Please do not submit post-dated cheques.
O.R.A. Team Registration Form (TRF)
TRF's should be forwarded as soon as they become available. For U8-U12, please include your "composite team score" on or with your TRF for proper pool placement.
Send payment and TRF to:
Division Registrar - Jordan Kovats, 42 Westminster Ave, Guelph, ON, N1E 4C1. Cheques can also be mailed directly to the Guelph Ringette Association, P.O. Box 13, Guelph, ON, N1H 6J6.
If you have any questions, contact Jordan Kovats.